Ethereum (ETH) has faced a strong rejection at the 38.2% fib extension level shown on the 15 minutes chart. If the price remains below the 38.2%, we are likely to see further downside ensue and ETH/USD will have to fall towards the bottom of the descending channel. We saw the bulls and the bears put up quite a fight near the top of the channel and it appeared confusing for a while but what is supposed to happen always does. A few big wicks to the upside or to the downside shake out those ambitious traders looking to get rich quick and then the market takes its course. Currently, the price is struggling to remain above the 61.8% fib extension level. If it holds this level, we could still have some hope for the bullish case but if this level fails to hold, we are likely to see a sharp decline to the bottom of the channel.

If you are following the price action closely, the market often throws quite a few hints our way. For instance, the price already declined and closed below the 61.8% but when that happened everyone suddenly started entering short positions because they took it as a sign of further downside to follow. The market makers were aware of this and they did the opposite of what everyone was expecting and so the price went back above the 61.8% all the way up to retest the 38.2% shaking out a lot of greedy traders on the way. So, what does this mean? It means that what is supposed to happen might happen anyway but without most of these traders onboard. This is why proper risk management is so important. If a trade does not go your way, you should know when to kill it and get out as quickly as possible.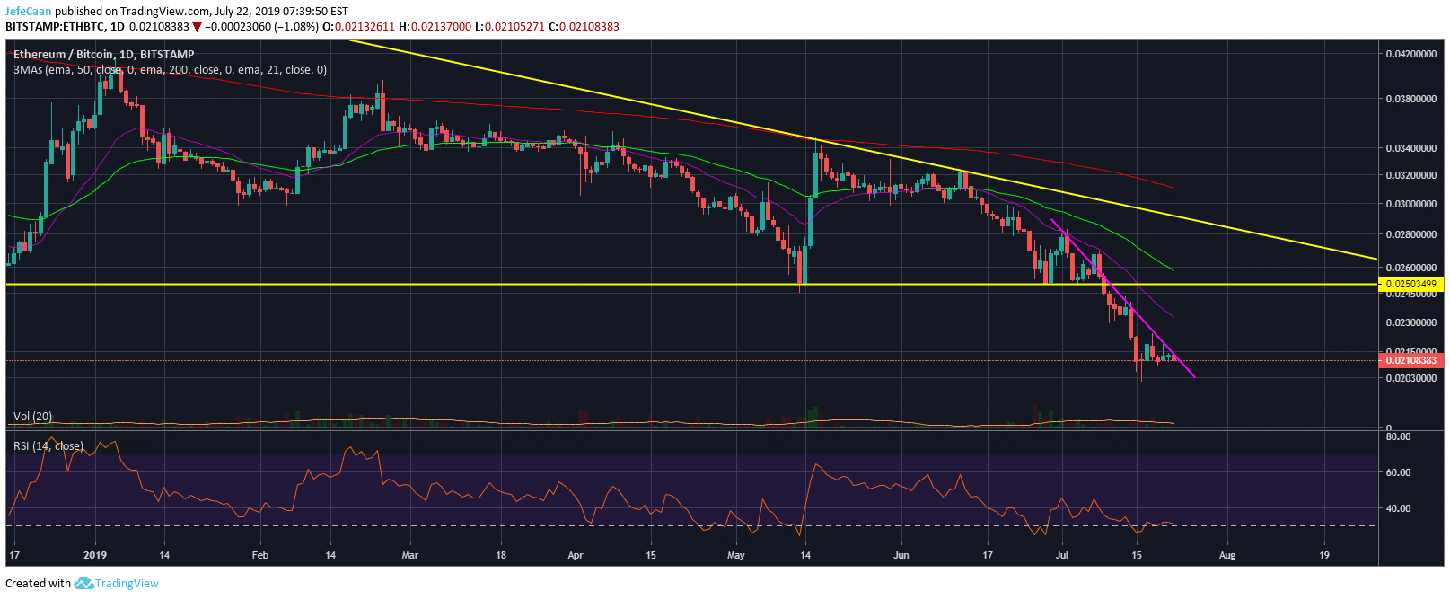 If we take a look at this chart for ETH/BTC, it exposes further weakness in Ethereum (ETH) as it has once again resumed its downtrend against Bitcoin (BTC). This means that the short term relief rally that we saw when Ethereum (ETH) outpaced Bitcoin (BTC) and everyone was calling for an altcoin rally was indeed very short-lived. The most likely scenario now is the beginning of another downtrend that might see altcoins get battered very hard not only against the US Dollar but also against Bitcoin (BTC).
Ethereum (ETH) has yet to see any signs of a recovery. The outlook is as bearish as it gets on the larger time frames despite misleading price action on shorter time frames. The mistake most new traders make is to use shorter time frames to predict moves on the larger time frame and vice versa. The price of an asset can be bullish short term and bearish long term. Similarly it can be bullish long term and bearish short term. In the case of Ethereum (ETH), it is hanging by a thread to turn bearish short term but it already remains bearish on larger time frames.
Win Free Bitcoins ?
Remember to share this article for extra BTC coins !!!
BTC: 1-5000 satoshi every 1000 minutes.