Ethereum (ETH) bulls have lost the momentum to push the price higher. We can see a clear resistance at $263 and ETH/USD now seems more likely to decline towards the 38.2% fib level. The bearish divergence on the RSI indicates that the price may go down soon in the days ahead. It is important to realize that if the price falls towards $80 again, it is likely to go lower than that. This is why we think the next downtrend in ETH/USD could be a lot more devastating. The altcoin market as a whole risk to lose a lot more compared to Bitcoin (BTC) during the next downtrend.

The parabolic run up in ETH/USD that can be seen on the daily chart which started in December, 2019 seems to have finally come to an end. Such rallies as we have seen in the past are rarely sustainable and the price ends up declining a lot more aggressively soon after. It may take time for the market to garner the strength to rally but it does not take much for everyone to panic and for the price to crash. This is not a good time to be hoping for the beginning of a new uptrend from here in light of what is happening on the social, economic and political scene worldwide. The cryptocurrency market is at risk but altcoins are at a much higher risk.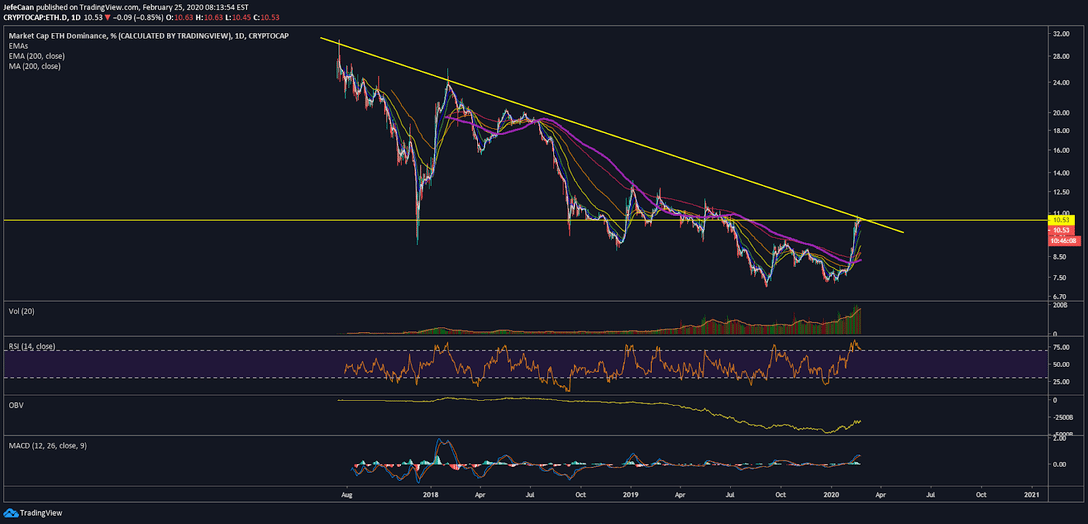 The daily chart for ETH/BTC shows that the pair has declined below a key support which it has just tested as resistance. It has also run into a trend line resistance at the same time much like the S&P 500 (SPX). There is therefore a good chance that we might see the beginning of a major downtrend from here. The market makers and whales are trying their best to keep the sentiment optimistic but if the stock market continues to decline, there's nothing much they would be able to do.
To most such big players in the market, it is not about Bitcoin (BTC) or Ethereum (ETH), it is about the money. They don't care how many stops they run or how many people they discourage from being a part of the crypto community. They have done it before and they will do it again. It makes no difference to them what retail traders would think if they crash the price by 20% in a matter of minutes as long as they are running stops of retail bulls and making profits. They might be keeping the sentiment high for now but if global financial markets begin to react more strongly to Coronavirus, they are going to be the ones selling faster than anyone else and this could crash the market really hard in ways we have not seen before.