Ethereum (ETH) seems to be trying too hard to maintain its current uptrend against Bitcoin (BTC). However, it is not at a decision point. The fib rings on the 4H chart for ETH/BTC shows that the pair is on the verge of making a big move now. This could be a potential breakout to a higher high or a potential breakdown below this trend line support which would break the current uptrend. It is important to note though that if Ethereum breaks the current uptrend, it will be very hard for the pair to make a new yearly high. The probability of Ethereum (ETH) shooting past $300 before halving would also decrease significantly in that case.

The past few weeks have been very promising for the altcoin market. We saw cryptocurrencies like Ethereum (ETH) make big gains not only against the US Dollar (USD) but also against Bitcoin (BTC). Considering that halving is around the corner, one would expect far more interest in Bitcoin (BTC) rather than altcoins but that does not seem to the be the case. It is possible though that the trend may be about to reverse. We can already spot a bearish divergence on the RSI on the 4H chart for ETH/BTC. This further corroborates our view that Ethereum (ETH) may indeed end up breaking below this trend line support. That being said, there is already enough fear in the market and if the current uptrend is broken, it will deal a serious blow to the bullish resolving and the halving FOMO.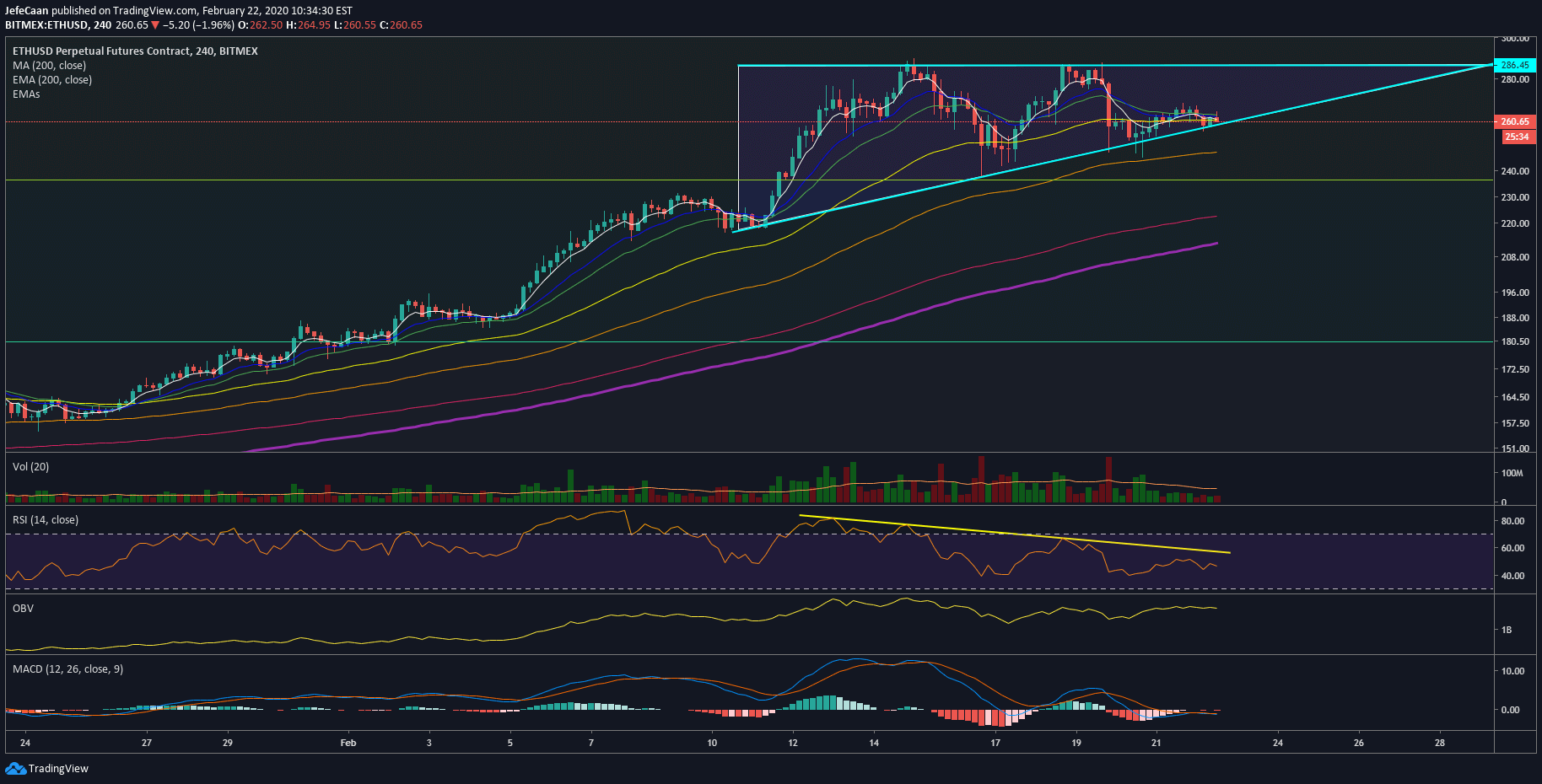 The 4H chart for ETH/USD shows that Ethereum (ETH) has still not broken below the ascending triangle. This means that there is still hope that we might see a move to the upside from here which could push the price out of the ascending triangle. However, the bearish divergence on the RSI points to a different outlook. Also, Ethereum has failed to make a higher high and now risks a decline down to the 38.2% fib level at $236.6. If it fails to hold that level then we can expect a declined down to the 200-moving average.
It is important to note here that if this uptrend is broken, we are very unlikely to see a new yearly high in Ethereum (ETH) because this would most likely be the beginning of a major uptrend in the cryptocurrency market. At this point, it seems a bit too early for the current uptrend to come to an end considering that big players in this market have a good opportunity to capitalize on the halving FOMO. That being said, BTC/USD has repeatedly closed below the 21-day EMA now and we have also spotted a bearish divergence on the S&P 500 (SPX). This means that the technicals are in favor of a decline from current levels and as long as ETH/USD remains below the 200-moving average on the 1H time frame, we expect it to decline further.